Do you have an account?
Why create an account?
After creating an account you will :
have access to the "favourites" feature.
be able to download certain data published by RTE.

to request a PKI certificate to access secure RTE test applications.
If you are an RTE customer, feel free to contact your administrator so that he or she can give you access to your company's services.
In 2019, our customers were once again given the opportunity to evaluate their customer experience and the quality of service rendered by RTE.
Customer satisfaction was retained in 2019 and participants expressed a range of expectations relating to transparency, personalised advice and respecting deadlines: reducing connection times, improving access to information, dedication to meeting their needs when planning works and providing support in the markets.
The overall level of satisfaction remained stable and more heterogeneous depending on the segments
Close to 880 respondents provided their feedback in our annual survey. 87% of respondents reported overall satisfaction in 2019 (percentage of scores greater than or equal to 7/10).
Customers are very satisfied. Overall, 1 in 3 customers (33%) gave a score greater than or equal to 9/10 for the quality of service rendered by RTE.
This is 7 points higher than in 2018.
The survey highlights the different levels of expectations between customer segments.
Consumer (94%) and generator (95%) segments expressed their "very high satisfaction".
On the other hand, distributors (75%) and market players (71%, -5 points) expressed higher expectations.
Expectations of distributors were in terms of how long the connection process takes (timelines for obtaining studies, long internal validation processes), the quality of information delivered in case of an incident and respecting works schedules.
For market players, special attention must be paid to the simplification of rules as well as to the reliability of the information system, in particular data services.
Customer relationship: a key pillar of the customer experience
The quality of the relationship with RTE's representatives was once again recognised. The availability, attention and quality of support remain key strengths to leverage.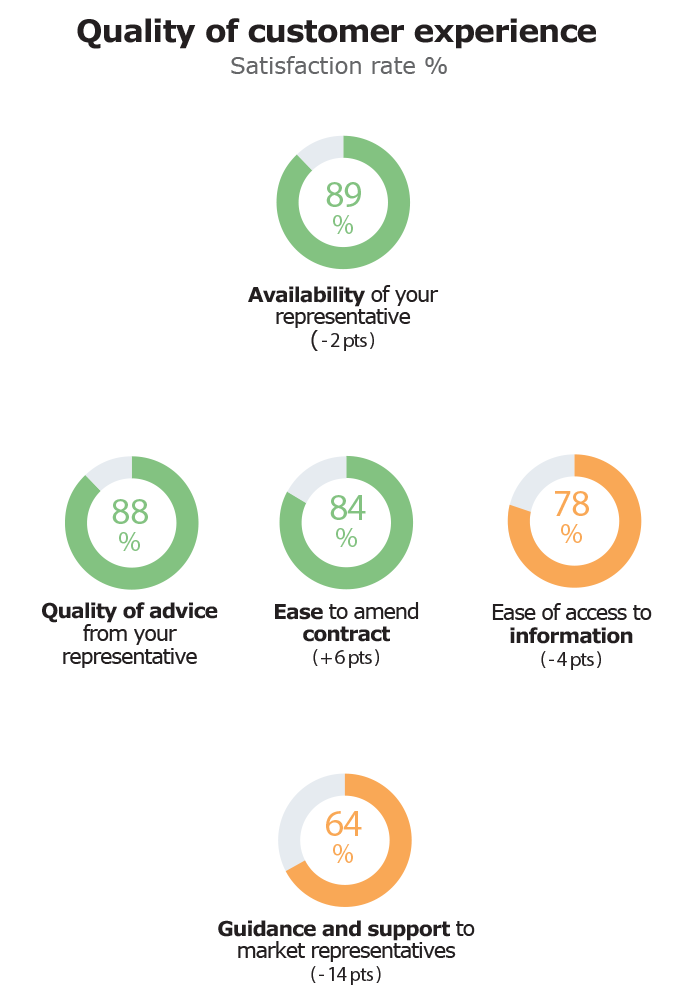 "Strive for excellence in the customer relationship. Cordial and reciprocal relationship, identify solutions for improvement while anticipating our needs. " (Consumer Segment)
"Why 8: because of the quality relationship with RTE. The company demonstrates a high level of expertise evident on a number of fields (network analysis, S3RENR (regional schemes for connection to renewable energy networks), connection, works...). Business relationships are fluid, and finding solutions is our shared leitmotif (...)" (Distributor Segment)
"We worked together on a complex connection project. The representatives were attentive and responded very well to our needs." (Generator Segment)
Customer experience: we must pursue our efforts
The level of satisfaction expressed in terms of services offered has increased and demonstrates the success of action plans undertaken in 2018. The work done to provide support to local distribution companies on market mechanisms, deploying real time metering, expanding our offer in terms of digital technology and establishing new means of data transmission (IP, APIs) has a visible impact on the quality of the customer experience delivered.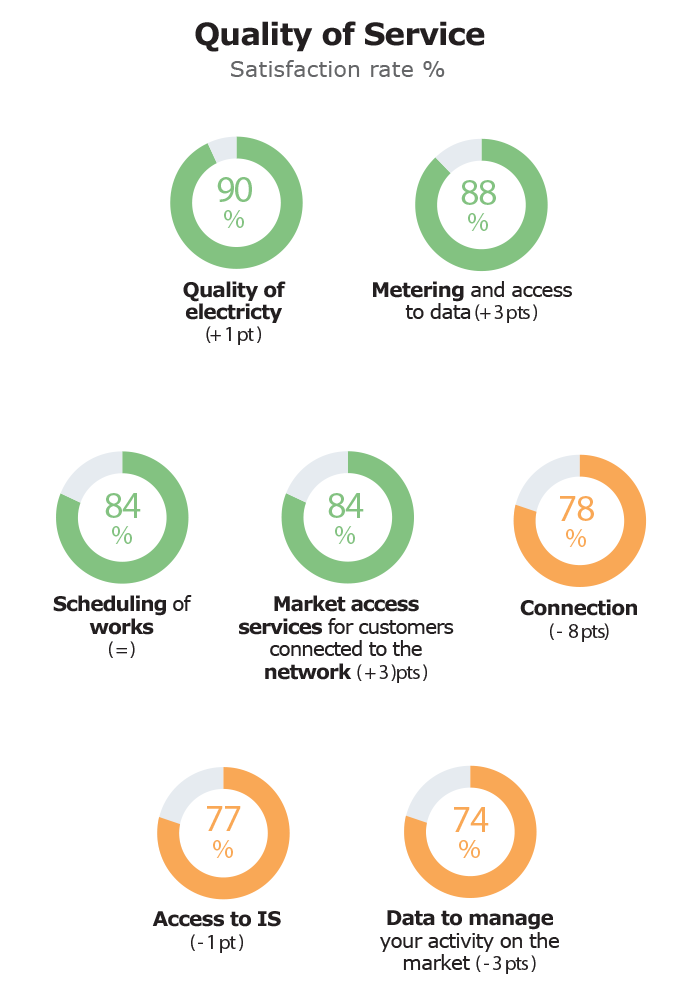 "A very good relationship with rare outages and when there are cuts the service is quickly restored. We are priority customers under the Seveso III directive." (Consumer Segment)
"Planning of works: Fully in line with our company and our maintenance shutdowns." (Consumer Segment)
"I gave this rating as there were no power cuts/ Very good quality of delivery / No voltage variations/ No issues." (Consumer Segment)
Building on these encouraging results, we are implementing action plans to further improve the satisfaction of our customers.
February 3, 2020