Do you have an account?
Why create an account?
After creating an account you will :
have access to the "favourites" feature.
be able to download certain data published by RTE.

to request a PKI certificate to access secure RTE test applications.
If you are an RTE customer, feel free to contact your administrator so that he or she can give you access to your company's services.
+ Ensure security of supply in France through obligation of obligated parties and by providing generation and demand response capacities in exchange for remuneration
Beneficiaries
Generators
Consumers
Suppliers
Capacity Portfolio Manager
Agregators
DSO
Presentation of the mechanism
The capacity mechanism is intended to safeguard the security of electricity supply in France during peak winter periods. It is based on the obligation for obligated parties to cover consumption during peak periods and on the certification of generation and demand response capacities.
Capacity operators

(generation and demand response capacity) undertake to ensure availability during peak winter periods. In exchange, RTE gives them certificates that they can then sell to obligated parties

Obligated parties

demonstrate on an annual basis that they are able to cover customer consumption during peak winter periods. To meet this obligation, they must hold certificates. Obligated parties are suppliers, as well as end consumers and system operators for their losses, which, for all or part of their consumption, are not supplied by a provider.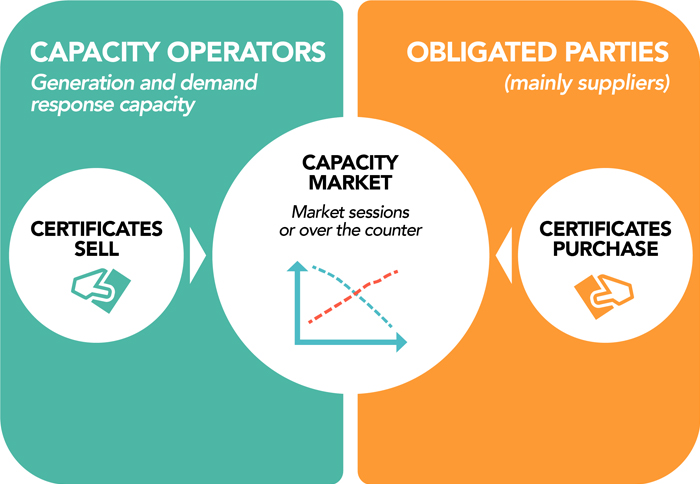 Participate in the capacity mechanism
The capacity mechanism begins four years upstream. During the year of delivery, RTE notifies each day in day-ahead the peak days PP1 (for the obligated parties) and PP2 (for operators) during which obligated parties and capacity operators will have to fulfil their respective obligations. 10 to 15 days PP1 and 10 to 25 days PP2 may be notified each year, from 1 January to 31 March and from 1 November to 31 December (except during the Christmas holidays and during week-ends), and from 7:00 to 15:00 and from 18:00 to 20:00.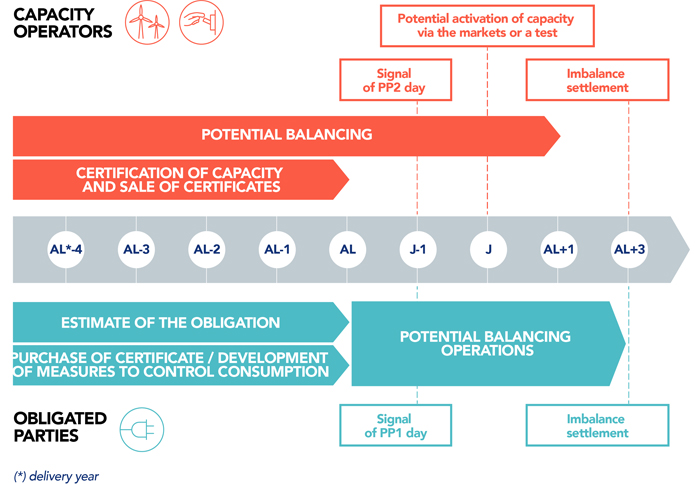 Aggregation is compulsory for generation sites with installed power below 1MW and consumption sites with available power below 1MW. Above this limit, operators may participate directly by certifying their capacity with RTE. They then become representatives of the certification entity and remunerate the capacity themselves.
The trading sessions for exchanging capacity guarantees are held by EPEX. Results of each trading session are published on the website of EPEX.
Participate as:
Call for tenders for new capacities
Every year, if there has been a benefit identified for social welfare, the minister in charge of energy holds a call for tenders for new capacities, four years ahead of the delivery year. Aim: to offer visibility and a stable price to facilitate new investments. New capacity providers will be awarded a contract for difference for their capacity revenue for a period of 7 years (set guaranteed price following the call for tenders).
Find out more > Responding to the call for tenders for new capacities.
Contracting
To participate in the capacity mechanism you are required to adhere to the rules and additional provisions of the mechanism. To do this, depending on your role in terms of the mechanism, you sign:
RTE also provides you with contractual models.
Price
Obligated party: 4€/MW of reference power per year (RTE fee for calculating obligation for the total perimeter of the obligated party).
Certification Entity:
500€/account/year (fixed costs for REGA account management)
0.38€/capacity guarantee/year (variable costs for managing the capacity guarantees registry invoiced during any sale of capacity guarantees, capped at 1€/guarantee/year).
10€/MW (PTS certification fee)
Access the Information System
To participate in the capacity mechanism you are required to:
have access to the RTE information system;
comply with the terms of data exchanges described in the IS Terms and Conditions of the mechanism.
IS Rules of the Capacity Mechanism - certification component
IS Rules of the Capacity Mechanism: obligation component
Additional offers
To help you better understand how the capacity mechanism works, RTE provides you with:
For more transparency, RTE offers a set of data services.
Find out more
Reports relating to the capacity mechanism
Certification
Obligation
CRE deliberations
Contact
Your sales representative is at your disposal for any additional information on the capacity mechanism. For any technical questions relating to the operational implementation of the mechanism, contact RTE at: rte-mecanismecapacite@rte-france.com