Do you have an account?
Why create an account?
After creating an account you will :
have access to the "favourites" feature,
be able to download certain data published by RTE,

have access to forms (PKI certificate,

EIC code, Customer questionnaire - KYC),

have access to notifications.
If you are an RTE customer, feel free to contact your administrator so that he or she can give you access to your company's services.
To be remunerated for your flexibilities, you may participate in the frequency ancillary services by becoming a reserve provider.
Beneficiaries
Market participants

Generators

Consumers
Frequency Ancillary services
The operation of the power system requires that generation must be equal to consumption at all times.
RTE ensures this balance in real time, factoring in consumption and generation variability (weather, power generation availability, etc.). To maintain the balance between supply and demand, RTE requires dispatchable power reserves, both upward and downward, from capacities based in France or the rest of Europe.
There are three types of reserves which can be successively applied: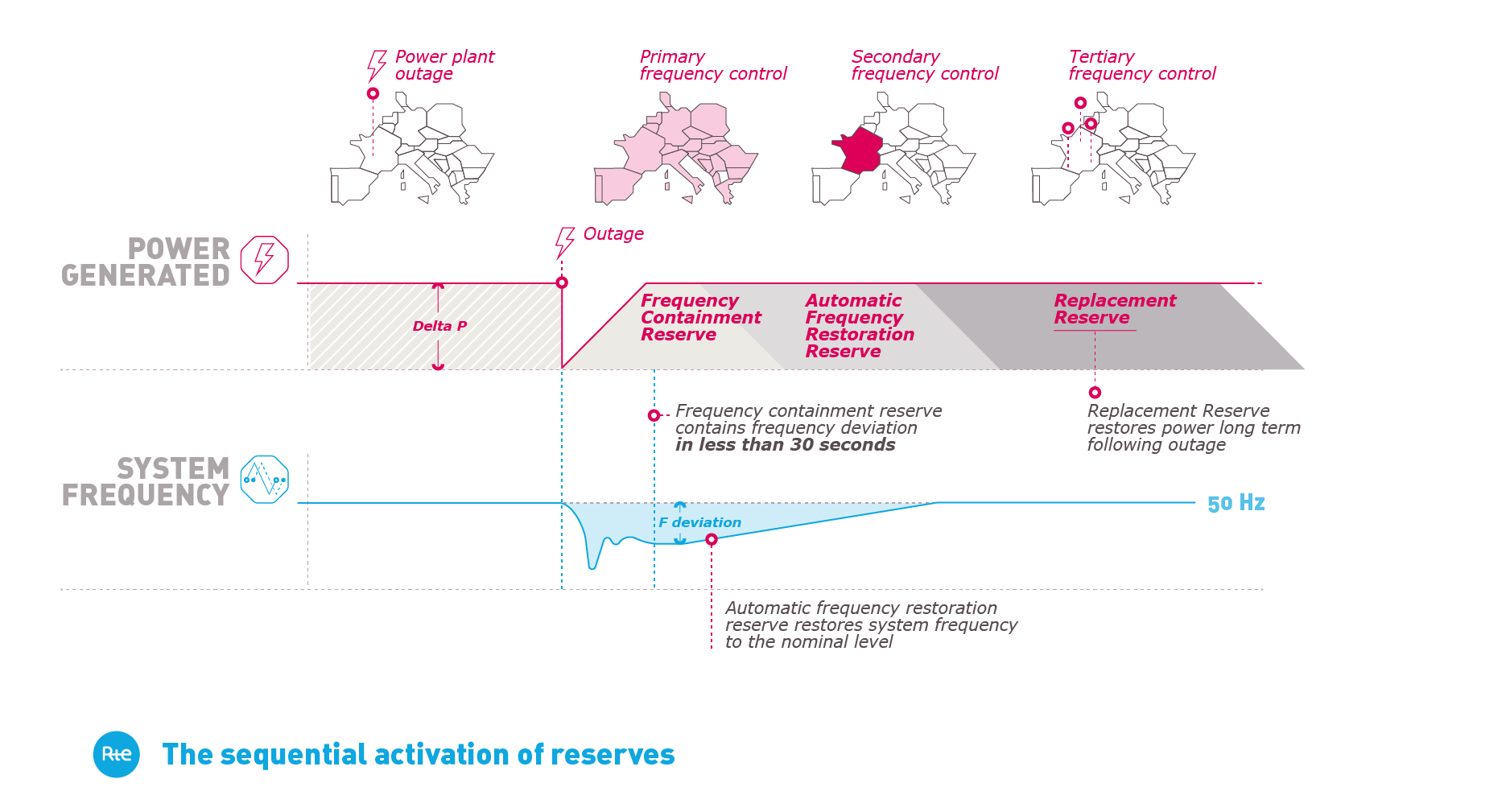 Frequency ancillary services are dispatched automatically according to the signals of the system:
the frequency deviation of the Continental Europe Synchronous Area for primary frequency control,
the load-frequency control level for secondary frequency control.
The characteristics and performance of the frequency control are described in the technical reference documentation (chapter 4.1).
Contracting with RTE
The provision of frequency ancillary services is open to all capacities previously certified in mainland France, regardless of the technology and the level of connection.
Contracting of frequency containment reserve is done through cross-border tenders via the FCR Cooperation.

Automatic frequency restoration reserves are contracted nationally with obligated parties at a regulated price.

Exchanges between reserve providers are possible at any price for the two types of reserve.
To become reserve provider, you are required to comply with the Frequency Ancillary Services Terms and Conditions, established in consultation with the market players and approved by the French Energy Regulatory Commission. For this, you must sign a participation agreement as a reserve provider.
To do this, you need to:
fill in the Frequency Ancillary Services Terms and Conditions questionnaire in Annex 14 designed to verify the suitability of the applicant,
if you do not have EIC code, please make the request through the online form,
fill in and send Annex 1 (participation agreement model) and Annex 3 (list of contacts) of the Frequency Ancillary Services Terms and Conditions,
send the documents and information listed in annex 1,
request access to the RTE telecontrol information exchange system,
get your capacities certified in accordance with article 5 of the Frequency ancillary services Terms and Conditions,
declare the elements making up your reserve perimeter using annex 4 of the Frequency ancillary services Terms and Conditions.
Your services as a reserve provider
RTE offers a set of services for each reserve provider to carry out and optimise their activity, including:
To access these services, you may need to create an account and/or hold a PKI certificate.
Additional information
Day-ahead tenders for the contracting of automatic frequency restoration reserve capacities
From 3 November 2021 (delivery day), RTE will contract automatic frequency restoration reserves (aFRR) through day-ahead calls for tender on D-1 9h. If an indivisible tender is submitted, the proposed power volume must be less than a maximum threshold set at 20MW.
When calculating the automatic frequency restoration reserve requirement, appendix I of the Load-Frequency Control Block operational agreement (LFC block) provides for the application of a factor to take into account the overscheduling of market participants in the final dispatch schedule, following a balancing activation for "P=C" reasons. This value is 100%.
The automatic frequency restoration reserve requirements for the 4th quarter of 2021 are described as follows:
Open days:
Non-working days:
Compensation related to a frequency ancillary services failure due to a balancing mechanism operation
A compensation relating to a frequency ancillary services failure due to a balancing mechanism operation is paid by the reserve providers to RTE. This compensation is revised on 1 April of each year Y, for the current period from 1 April of the year Y to 31 March of the year Y+1.
It is calculated as follows:

Where:
ΣA-1 additional costs SSY is the sum of the ancillary services additional costs (EUR) of the year Y-1, determined in accordance with the MA-RE Terms and Conditions,

ΣA -1 SSY reconstituted volumes is the sum of the ancillary services reconstituted volumes for the year Y-1 (in hMW), determined in accordance with the MA-RE Terms and Conditions,

ΣY-1 aVU+ (1-a)VD is the sum for all Reserve Providers and for all Half-Hourly Intervals for the year Y-1, and for all Types of Reserve, of the volumes V (in hMW), where VU is the upward volume,

and VD is the downward volume,

a is the ratio of upward/downward compensation.
S computing for the year 2021
Sum of additional costs SSY for 2020 : 71 026 970 €
Sum of SSY reconstituted volumes in 2020 : 1 761 897 hMW
2020 balance : - 461 131 € (as a reminder, the 2019 balance was + 216 908 €)
S2021 = 44.09 €/hMW
Regulated Capacity Price
The Regulated Capacity Price (PFC) is the regulated price of the reserve obligation remuneration, it is revised each year on the 1st of January.
The PFC2021 value is 9,790 €/MW (for one half-hour).
Reference documentation
Contact
For any questions, please contact marketservices@rte-france.com